Tip of the day!
Learn how to stay in touch with CodeStack latest updates about SOLIDWORKS API, C#, Visual Basic, DevOps and software development tutorials and tips & trick. Never miss the releases of new useful macros or applications to enhance your SOLIDWORKS experience.
Defeature Part (convert to dumb solid) using SOLIDWORKS API
This macro emulates the functionality of Defeature for Part but not using it directly.
Macro copies all visible solid and surface bodies, deletes all user features and imports the copied bodies using SOLIDWORKS API.
Before: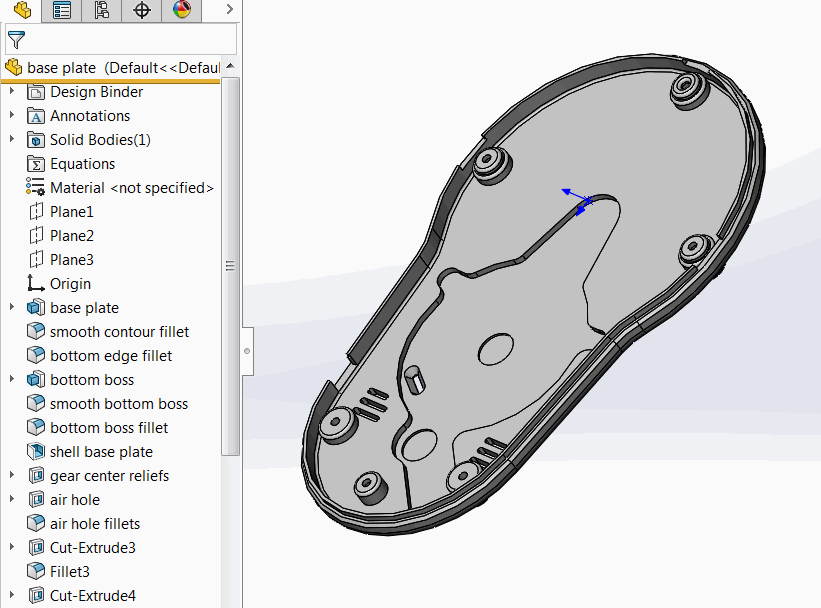 After:
Dim swApp As SldWorks.SldWorks

Sub main()

    Set swApp = Application.SldWorks
    
    Dim swPart As SldWorks.PartDoc
    
    Set swPart = swApp.ActiveDoc
    
    If Not swPart Is Nothing Then
        
        Dim vBodies As Variant
        vBodies = GetBodyCopies(swPart)
        
        DeleteAllUserFeatures swPart
        
        CreateFeaturesForBodies swPart, vBodies
        
    Else
        MsgBox "Please open part document"
    End If
    
End Sub

Function GetBodyCopies(part As SldWorks.PartDoc) As Variant
    
    Dim vBodies As Variant
        
    vBodies = part.GetBodies2(swBodyType_e.swAllBodies, True)
    Dim i As Integer
    
    For i = 0 To UBound(vBodies)
        
        Dim swBody As SldWorks.Body2
        Set swBody = vBodies(i)
        Set swBody = swBody.Copy()
        Set vBodies(i) = swBody
        
    Next
    
    GetBodyCopies = vBodies
    
End Function

Sub CreateFeaturesForBodies(part As SldWorks.PartDoc, vBodies As Variant)
    
    Dim i As Integer
    
    For i = 0 To UBound(vBodies)
        Dim swBody As SldWorks.Body2
        Set swBody = vBodies(i)
        part.CreateFeatureFromBody3 swBody, False, swCreateFeatureBodyOpts_e.swCreateFeatureBodySimplify
    Next
    
End Sub

Sub DeleteAllUserFeatures(model As SldWorks.ModelDoc2)
    
    SelectAllTopLevelUserFeatures model
            
    model.Extension.DeleteSelection2 swDeleteSelectionOptions_e.swDelete_Children + swDeleteSelectionOptions_e.swDelete_Absorbed
            
End Sub

Sub SelectAllTopLevelUserFeatures(model As SldWorks.ModelDoc2)
    
    model.ClearSelection2 True
    
    Dim swFeat As SldWorks.Feature
    
    Set swFeat = model.FirstFeature
    
    Dim selectFeat As Boolean
    selectFeat = False
    
    While Not swFeat Is Nothing
        
        If selectFeat Then
            swFeat.Select2 True, -1
        Else
            If swFeat.GetTypeName2() = "OriginProfileFeature" Then
                selectFeat = True
            End If
        End If
        
        Set swFeat = swFeat.GetNextFeature
        
    Wend
    
End Sub