Usage of assembly component transformation in SOLIDWORKS API
SOLIDWORKS components are instances of models (parts or assemblies) in the another parent assembly. Component's position in its space is driven by its transformation (regardless if the component is constrained by mates or moved in the space by free drag-n-drop operation). Transformation consists of 3 components: translation, rotation and scale.
To get the transformation of the component use the IComponent2::Transform2 SOLIDWORKS API property. The transform in this case represents the relation of the component origin coordinate systems to the root assembly origin coordinate system. It is not required to multiple the transform of sub-assemblies for its children components to get the total transformation of these components relative to root assembly.
In the example below the component is moved in space Along X, Y and Z coordinates. The following example will calculate the new positions of the component's origin: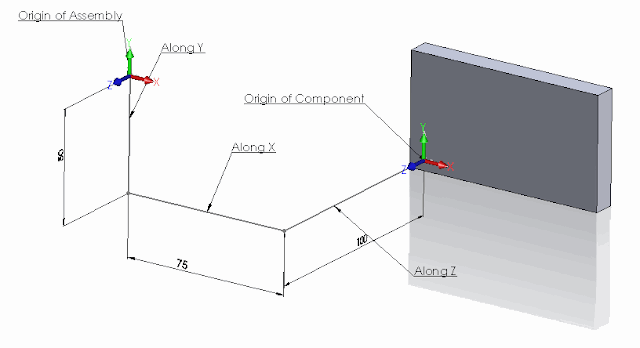 Dim swApp As SldWorks.SldWorks
Dim swMathUtils As SldWorks.MathUtility
Dim swModel As SldWorks.ModelDoc2
Dim swSelMgr As SldWorks.SelectionMgr
Dim swComp As SldWorks.Component2

Sub main()

    Set swApp = Application.SldWorks
    
    Set swMathUtils = swApp.GetMathUtility
    
    Set swModel = swApp.ActiveDoc
    
    Set swSelMgr = swModel.SelectionManager
    
    Set swComp = swSelMgr.GetSelectedObject6(1, -1)
    
    Dim swTransform As SldWorks.MathTransform
    Set swTransform = swComp.Transform2
    
    Dim dOrigPt(2) As Double
    dOrigPt(0) = 0: dOrigPt(1) = 0: dOrigPt(2) = 0
    
    Dim swMathPt As SldWorks.MathPoint
    
    Set swMathPt = swMathUtils.CreatePoint(dOrigPt)
    
    Set swMathPt = swMathPt.MultiplyTransform(swTransform)
    
    Dim vCompOriginPt As Variant

    vCompOriginPt = swMathPt.ArrayData
    
    Debug.Print "Along X: " & vCompOriginPt(0) * 1000 & "mm; " & "Along Y: " & vCompOriginPt(1) * 1000 & "mm; " & "Along Z: " & vCompOriginPt(2) * 1000 & "mm"
    
End Sub
The following line will be output to the Watch window as the result of running the macro on this sample model:
Along X: 75mm; Along Y: -50mm; Along Z: -100mm
Now let's rotate the component and try to find the rotation angles. This component is rotated in all directions. Red line below - is the X axis of the assembly, Green line - Y axis, Blue line - Z axis. New X, New Y and New Z - are orientation of the corresponding axes in the component and dimensions indicate the angles between those axes.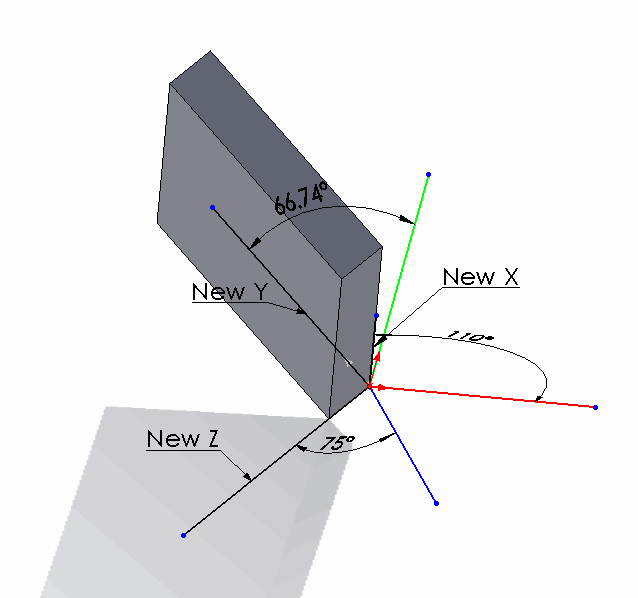 Const PI As Double = 3.14159265359

Dim swApp As SldWorks.SldWorks
Dim swMathUtils As SldWorks.MathUtility
Dim swModel As SldWorks.ModelDoc2
Dim swSelMgr As SldWorks.SelectionMgr
Dim swComp As SldWorks.Component2

Sub main()

    Set swApp = Application.SldWorks
    
    Set swMathUtils = swApp.GetMathUtility
    
    Set swModel = swApp.ActiveDoc
    
    Set swSelMgr = swModel.SelectionManager
    
    Set swComp = swSelMgr.GetSelectedObject6(1, -1)
    
    Dim swTransform As SldWorks.MathTransform
    Set swTransform = swComp.Transform2
    
    Debug.Print "Angle between X axes: " & Round(GetAngle(1, 0, 0, swTransform) * 180 / PI, 2) & " deg"
    Debug.Print "Angle between Y axes: " & Round(GetAngle(0, 1, 0, swTransform) * 180 / PI, 2) & " deg"
    Debug.Print "Angle between Z axes: " & Round(GetAngle(0, 0, 1, swTransform) * 180 / PI, 2) & " deg"
    
End Sub

Function GetAngle(x As Double, y As Double, z As Double, transform As SldWorks.MathTransform) As Variant
    
    Dim dVect(2) As Double
    dVect(0) = x: dVect(1) = y: dVect(2) = z
    
    Dim swMathVecOrig As SldWorks.MathVector
    Dim swMathVecTrans As SldWorks.MathVector
    
    Set swMathVecOrig = swMathUtils.CreateVector(dVect)
    
    Set swMathVecTrans = swMathVecOrig.MultiplyTransform(transform)
    
    'cos a= a*b/(|a|*|b|)
    GetAngle = ACos(swMathVecOrig.Dot(swMathVecTrans) / (swMathVecOrig.GetLength() * swMathVecTrans.GetLength()))
    
End Function

Function ACos(val As Double) As Double
    
    If val = 1 Then
        ACos = 0
    ElseIf val = -1 Then
        ACos = 4 * Atn(1)
    Else
        ACos = Atn(-val / Sqr(-val * val + 1)) + 2 * Atn(1)
    End If
    
End Function
Running the code above will output the following results for this sample model:
Angle between X axes: 110 deg
Angle between Y axes: 66.74 deg
Angle between Z axes: 75 deg