More 'Goodies'
---
This macro exports the selected table to the CSV (Comma Separated Values) file using SOLIDWORKS API. This functionality is similar to built-in 'Save As' option for table:
However macro preserves the special symbols like commas, quotes or new line symbols and properly escapes them according to the CSV specification: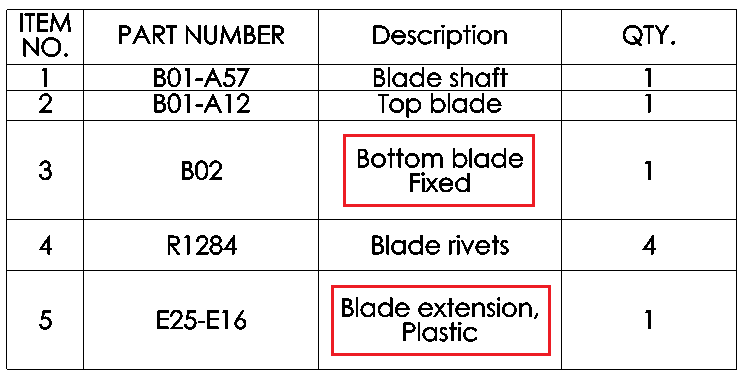 So the file can be later properly read using the CSV readers like MS Excel;
For the above example BOM table the macro will generate the following output:
ITEM NO.,PART NUMBER,Description,QTY.
1,B01-A57,Blade shaft,1
2,B01-A12,Top blade,1
3,B02,"Bottom blade
Fixed",1
4,R1284,Blade rivets,4
5,E25-E16,"Blade extension, Plastic",1
Macro can be configured by modifying the value of the constants



Const

 OUT_FILE_PATH 

As

 

String

 = 

"D:\bom.csv"

 

'Full path to the output CSV file




Const

 INCLUDE_HEADER 

As

 

Boolean

 = 

True

 

'True to include the table header, False to only include data



Specify empty string as the OUT_FILE_PATH variable value to export table with the same name as original file into the same folder
For example for the table in the D:\MyDrawing\Draw001.slddrw file the below setting would save the file into the D:\MyDrawing\Draw001.csv location.



Const

 OUT_FILE_PATH 

As

 

String

 = 

""






Const

 OUT_FILE_PATH 

As

 

String

 = 

"D:\bom.csv"

 

'empty string to save in the model's folder




Const

 INCLUDE_HEADER 

As

 

Boolean

 = 

True





Dim

 swApp 

As

 SldWorks.SldWorks



Sub

 main()

    

Set

 swApp = Application.SldWorks
    
    

Dim

 swModel 

As

 SldWorks.ModelDoc2
    
    

Set

 swModel = swApp.ActiveDoc
    
    

If

 

Not

 swModel 

Is

 

Nothing

 

Then


        
        

Dim

 swTableAnn 

As

 SldWorks.TableAnnotation
        

Set

 swTableAnn = swModel.SelectionManager.GetSelectedObject6(1, -1)
        
        

Dim

 vTable 

As

 

Variant


        vTable = GetTableData(swTableAnn, INCLUDE_HEADER)
            
        WriteCsvFile GetExportFilePath(swModel), vTable
        
    

Else


        MsgBox 

"Please open document"


    

End

 

If


    


End

 

Sub





Function

 GetExportFilePath(model 

As

 SldWorks.ModelDoc2) 

As

 

String


    
    

If

 OUT_FILE_PATH = 

""

 

Then


        
        

Dim

 modelPath 

As

 

String


        modelPath = model.GetPathName
        
        

If

 modelPath = 

""

 

Then


            Err.Raise vbError, 

""

, 

"Model is not saved. Specify the full path to save a table or save the model"


        

End

 

If


        
        GetExportFilePath = Left(modelPath, InStrRev(modelPath, 

"."

)) + 

"csv"


    

Else


        GetExportFilePath = OUT_FILE_PATH
    

End

 

If


    


End

 

Function





Function

 GetTableData(tableAnn 

As

 SldWorks.TableAnnotation, includeHeader 

As

 

Boolean

) 

As

 

Variant


    
    

Dim

 tableData() 

As

 

String


        
    

Dim

 i 

As

 

Integer


    

Dim

 j 

As

 

Integer


    
    

Dim

 offset 

As

 

Integer


    offset = IIf(INCLUDE_HEADER, 0, 1)
    
    

For

 i = 0 + offset 

To

 tableAnn.RowCount - 1
        
        

ReDim

 

Preserve

 tableData(tableAnn.RowCount - 1 - offset, tableAnn.ColumnCount - 1)
        
        

For

 j = 0 

To

 tableAnn.ColumnCount - 1
            tableData(i - offset, j) = tableAnn.Text(i, j)
        

Next


            
    

Next


        
    GetTableData = tableData
    


End

 

Function





Sub

 WriteCsvFile(filePath 

As

 

String

, table 

As

 

Variant

)
    
    

Dim

 fileNmb 

As

 

Integer


    fileNmb = FreeFile
    
    Open filePath 

For

 Output 

As

 #fileNmb
    
    

Dim

 i 

As

 

Integer


    

Dim

 j 

As

 

Integer


    
    

For

 i = 0 

To

 UBound(table, 1)
        
        

Dim

 rowContent 

As

 

String


        rowContent = 

""


        
        

For

 j = 0 

To

 UBound(table, 2)
            

Dim

 cell 

As

 

String


            cell = table(i, j)
            

If

 HasSpecialSymbols(cell) 

Then


                cell = 

""""

 & ReplaceSpecialSymbols(cell) & 

""""


            

End

 

If


            rowContent = rowContent & IIf(j = 0, 

""

, 

","

) & cell
        

Next


        
        Print #fileNmb, rowContent
        
    

Next


    
    Close #fileNmb
    


End

 

Sub





Function

 HasSpecialSymbols(cell 

As

 

String

) 

As

 

Boolean


    
    HasSpecialSymbols = InStr(cell, 

","

) > 0 

Or

 InStr(cell, vbLf) > 0 

Or

 InStr(cell, vbNewLine) > 0 

Or

 InStr(cell, 

""""

) > 0
    


End

 

Function





Function

 ReplaceSpecialSymbols(cell 

As

 

String

) 

As

 

String


    cell = Replace(cell, 

""""

, 

""""""

)
    ReplaceSpecialSymbols = cell


End

 

Function